Syringe Pump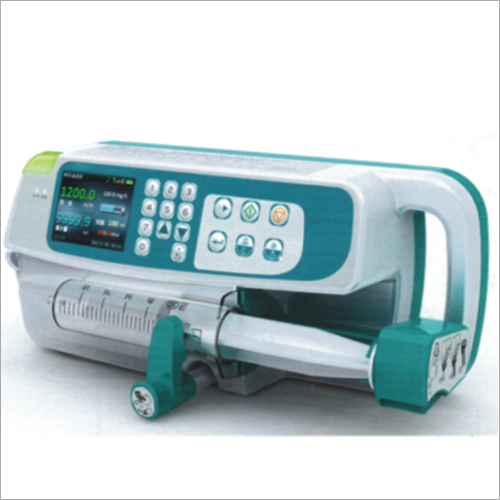 Syringe Pump
Product Description
Being a client-oriented organization in this arena, we are actively engaged in presenting a world-class Syringe Pump. It is engineered to be used by hospital & healthcare professionals to supply small doses of medicine from varied syringe sizes in acute care settings. Such pump is acknowledged for safe & accurate medication supply to patients' body in the pediatric & neonatal intensive care units and adult critical care setup, and operating room. Syringe Pump is lightweight, compact, easy to operate, and comes in different configurations and models.
Product Features :
3 Vein Infusion Modes: Easy Speed-Setting Mode, Time-Volume Mode, Dosage Weight Mode.
The system automatically opens up KVo after injection(reopens vein circulation)
The machine automatically records the settings for last injection.
Function to Auto-Define a Syringe: complete calibration technology for syringe brand definition that ensures the compatibility of any syringe, brand and injection accuracy.
Specification :
Syring Size : 2ml(For 1509E), 5ml, 10ml, 20ml, 30ml & 50/60ml
Volume Limit : 0.1ml-999.9ml
Rate :
10ml=0.1ml to 300ml/h, 20ml-D0.1ml
600mI/h, 30ml=0.1ml to 900ml/h
50ml=0.1ml to 1500mI/h
Battery Backup : 4 hrs
Weight: 2.2 kg
Dimension : 280mm x 210mm x 130mm
Contact Us
26,Ishwar Nagar soc., Shubhas Chowk, Hirabuag, Varachha Road,, Surat, Gujarat, 395006, India
Phone :+918037261872